Time to Pray 
by Berni Dymet
Mark 12:30 ...you shall love the Lord your God with all your heart, and with all your soul, and with all your mind, and with all your strength.
You might have heard me mention the other day that my cat went missing recently.  Her name's Doggy - I know, weird.  But that's it.
Anyhow, we had some builders in our yard, and she was obviously scared so she disappeared.  Now, I never used to be much of a cat lover, but little Doggy was so much part of our family.  She was such an affectionate little thing, that the thought of losing her was devastating.
And so I prayed.  I prayed to God with all my heart, that she'd just walk back in the door again.
Some people might think that's a bit weird too. I mean fancy praying for a stupid cat. 
Well, Jesus said "If you're close to me, and my words are close in your heart, you can ask for whatever you wish in my name and it will be given to you."
So….I took Him at His word. And when Doggy walked back in that door, the first thing I said was "Thank you."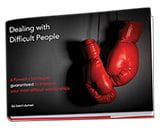 Get a Free eBook from Berni Dymet, Dealing with Difficult People. This timely and relevant eBook contains 6 powerful principles guaranteed to improve your most difficult relationships. And you can download it FREE, right now.