Dead Man Walking
by Berni Dymet
Luke 5:27 After this he went out and saw a tax collector named Levi, sitting at the tax booth; and he said to him, "Follow me."
I was talking with a man recently. He'd been a Major in the Rwandan Army during the 1994 genocide. Not surprisingly, he was a bit anti God. I guess you'd describe him as a proactive atheist.
Anyway, that was last year. Just recently, He sent me an e-mail that opened like this:
Yezu Akuzwe (which is Rwandan for Praise the Lord Jesus)
Those words began one of the most amazing e-mails I've ever read. It turns out, somehow as He'd listened to the story of Jesus Christ - it powerfully touched his heart. It cut through all of those incredible hurts and pains and scars of the bloody past……and the truth of God's love moved him deep inside.
Maybe you've never felt that in your heart. But let me say this. No matter what you've been through, no matter how much it hurts - that same God wants to touch you deep inside with His love.
When you feel Him reaching out to you - can I encourage you….don't turn your back.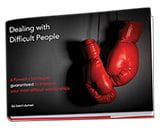 Get a Free eBook from Berni Dymet, Dealing with Difficult People. This timely and relevant eBook contains 6 powerful principles guaranteed to improve your most difficult relationships. And you can download it FREE, right now.