September 8
I am the LORD who sanctifies you.
Exodus 31:13
Sanctification is setting apart something or someone for the exclusive use of something else. The bride and groom vow that they are "forsaking all others." Being sanctified by and for God is the commitment of your whole being for Him alone. Sanctification is to be made holy, and is both an event and a process. The moment you receive Christ, you are holy in God's sight, because you have the righteousness of His spotless Son. But the process of sanctification happens in the material world, as you progressively place more and more of yourself under His complete control. This leads to practical living consistent with your heavenly character.
Click here to sign up for your free Winning Walk newsletter!
---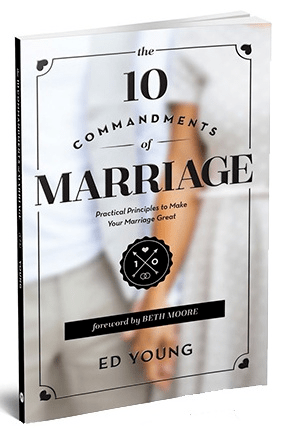 Have a healthy, happy, passionate and fulfilling marriage!
Dr. Young takes a practical, relevant, humorous, and convicting look at marriage in his book, The 10 Commandments of Marriage.
Request your copy of The 10 Commandments of Marriage when you give to share the proven truth of God's Word.
 
May it help you grow your marriage into one that's healthy, happy, passionate and fulfilling!