October 8
Train up a child in the way he should go, Even when he is old he will not depart from it. - >Proverbs 22:6
Construction crews don't wait until the building is half finished to lay the foundation. Training a child means building into his or her life early the solid base of a biblical worldview. It's also is to let them see in you a life that stands on unshakable foundations. "Where did I go wrong?" some parents ask—even among the church-going. Perhaps the children saw little or no evidence of God's truth, consistency with the parents' confession or practical application of biblical values. Lay the foundation, show them what a life under Christ's Lordship looks like, and you will experience the promise.
Click here to sign up for your free Winning Walk newsletter!
---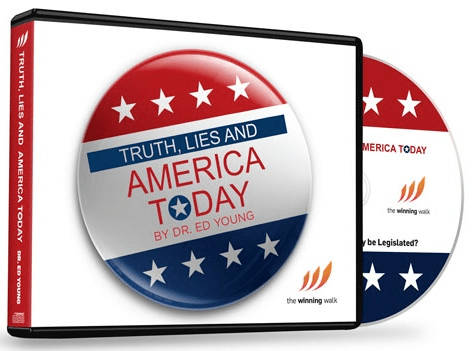 We've been told lies as a society, and many of us – even believers – have come to accept them as truth.
 
Dr. Ed Young exposes many of these lies in his 3-message CD series 'Truth, Lies, and America Today.'

You'll hear about steps you can take to:
       •Reestablish God's truth in your home and community
       •Rebuild our nation's moral foundation
       •Restore hope for future generations  

'Truth, Lies, and America Today' is our gift to thank you for your first monthly gift as a Winning Walk Pacesetter.
 
The faithful support of Pacesetters is crucial for helping proclaim proven truth on radio, television, and the internet – so please prayerfully consider becoming a Pacesetter today.
 
When you do, we'll send you 'Truth, Lies, and America Today' to help stand against the lies of our culture with the proven truth of God's Word.
 
We're so grateful for your partnership!