October 4
 I, the LORD your God, am a jealous God, visiting the iniquity of the fathers on the children, on the third and the fourth generations of those who hate Me, but showing lovingkindness to thousands, to those who love Me and keep My commandments … "In those days they will not say again, 'The fathers have eaten sour grapes, And the children's teeth are set on edge.' But everyone will die for his own iniquity; each man who eats the sour grapes, his teeth will be set on edge." - Exodus 20:5-5; Jeremiah 31:29-30
Family legends suggest my forebears were Alabama bootleggers. It bothered me as a child that I would pay for their sins. Under the New Covenant, made in Jesus Christ, we become responsible for our own sin—not the sins of our ancestors. Were it not for Christ we would stand in eternity guilty of the sins of our parentage, all the way back to Adam. But in Christ, we become new creations, with a new family—that of God. There's no sin heritage in that family tree and nothing for which we must give account except out own sin. And all our iniquity has been removed by Christ's blood.
Click here to sign up for your free Winning Walk newsletter!
---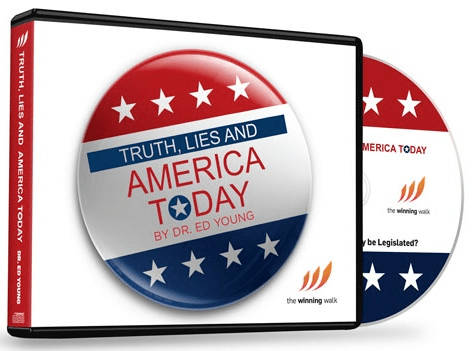 We've been told lies as a society, and many of us – even believers – have come to accept them as truth.
 
Dr. Ed Young exposes many of these lies in his 3-message CD series 'Truth, Lies, and America Today.'

You'll hear about steps you can take to:
       •Reestablish God's truth in your home and community
       •Rebuild our nation's moral foundation
       •Restore hope for future generations  

'Truth, Lies, and America Today' is our gift to thank you for your first monthly gift as a Winning Walk Pacesetter.
 
The faithful support of Pacesetters is crucial for helping proclaim proven truth on radio, television, and the internet – so please prayerfully consider becoming a Pacesetter today.
 
When you do, we'll send you 'Truth, Lies, and America Today' to help stand against the lies of our culture with the proven truth of God's Word.
 
We're so grateful for your partnership!