October 27
But if any of you lacks wisdom, let him ask of God, who gives to all generously and without reproach, and it will be given to him. - >James 1:5
The key to God's wisdom storehouse is petitionary prayer. Those too proud to ask won't get the rich supply. To ask is to acknowledge one's need. Pride keeps us from asking. "Don't tell me how to drive!" I snapped at Jo Beth one day as we tried to take the shortest route and make a tight schedule. Later, while preparing to preach, I came face to face with my pride. Men sometimes have a hard time asking—and receiving—directions. But God promises that if we recognize our need, and from that humility ask for His wisdom, we will receive it in abundance. 
Click here to sign up for your free Winning Walk newsletter!
---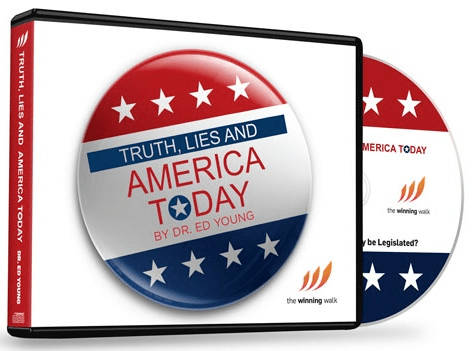 We've been told lies as a society, and many of us – even believers – have come to accept them as truth.
 
Dr. Ed Young exposes many of these lies in his 3-message CD series 'Truth, Lies, and America Today.'

You'll hear about steps you can take to:
       •Reestablish God's truth in your home and community
       •Rebuild our nation's moral foundation
       •Restore hope for future generations  

'Truth, Lies, and America Today' is our gift to thank you for your first monthly gift as a Winning Walk Pacesetter.
 
The faithful support of Pacesetters is crucial for helping proclaim proven truth on radio, television, and the internet – so please prayerfully consider becoming a Pacesetter today.
 
When you do, we'll send you 'Truth, Lies, and America Today' to help stand against the lies of our culture with the proven truth of God's Word.
 
We're so grateful for your partnership!