October 24
The LORD … will keep your soul. - Psalm 121:7
"Keeping or "preserving" is to exercise great care over an object of value. The soul is the seat of human personality, the organ of thinking, emotions and choosing. A Brinks truck bearing a load of cash stops at a bank to deposit its day's collection. Immediately guards spring out and surround the vehicle. With gun drawn, a security officer carries the wealth into the bank.  Leering eyes look on, wanting to grab the money. In the fallen world, the thief desires to snatch our souls, but God surrounds our minds, feelings and volition with His great care.
Click here to sign up for your free Winning Walk newsletter!
---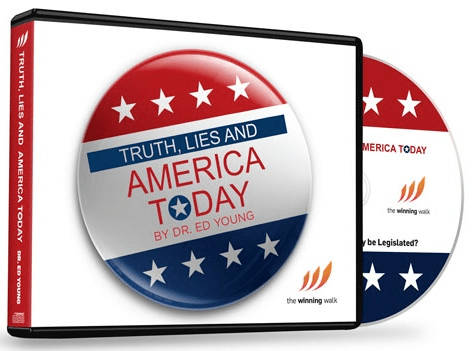 We've been told lies as a society, and many of us – even believers – have come to accept them as truth.
 
Dr. Ed Young exposes many of these lies in his 3-message CD series 'Truth, Lies, and America Today.'

You'll hear about steps you can take to:
       •Reestablish God's truth in your home and community
       •Rebuild our nation's moral foundation
       •Restore hope for future generations  

'Truth, Lies, and America Today' is our gift to thank you for your first monthly gift as a Winning Walk Pacesetter.
 
The faithful support of Pacesetters is crucial for helping proclaim proven truth on radio, television, and the internet – so please prayerfully consider becoming a Pacesetter today.
 
When you do, we'll send you 'Truth, Lies, and America Today' to help stand against the lies of our culture with the proven truth of God's Word.
 
We're so grateful for your partnership!