October 30
the kingdom of God is not eating and drinking, but righteousness and peace and joy in the Holy Spirit.
Romans 14:17
When tourists visit Las Vegas they are guaranteed lights, entertainment and buffet tables. For many, this is the essence of living. Yet a headline in the Las Vegas Sun reads, "Experts grappling with high suicide rate. The stark contradiction between promise and reality is too much for some. But to come into God's Kingdom is to enter a realm not dependent on glitter, glamour and glut. Rather, God's Kingdom pulsates with Spirit-fired joy, rests in His peace and has goodness as its atmosphere.
Click here to sign up for your free Winning Walk newsletter!
---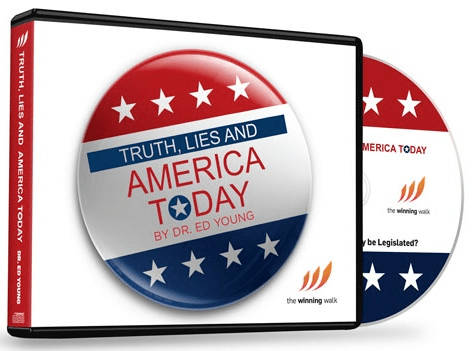 We've been told lies as a society, and many of us – even believers – have come to accept them as truth.
 
Dr. Ed Young exposes many of these lies in his 3-message CD series 'Truth, Lies, and America Today.'

You'll hear about steps you can take to:
       •Reestablish God's truth in your home and community
       •Rebuild our nation's moral foundation
       •Restore hope for future generations  

'Truth, Lies, and America Today' is our gift to thank you for your first monthly gift as a Winning Walk Pacesetter.
 
The faithful support of Pacesetters is crucial for helping proclaim proven truth on radio, television, and the internet – so please prayerfully consider becoming a Pacesetter today.
 
When you do, we'll send you 'Truth, Lies, and America Today' to help stand against the lies of our culture with the proven truth of God's Word.
 
We're so grateful for your partnership!