November 9
And not only this, but we also exult in our tribulations, knowing that tribulation brings about perseverance; and perseverance, proven character; and proven character, hope…
Romans 5:3-4
"Exult" means being "excited." How can we be excited in tribulations? Paul is no masochist, relishing pain. But he sees where tribulation leads. His eyes are stretched out to God's view of things, not the human perspective. For the person whose life belongs to God, there are no dead ends. Every road leads somewhere, event the rocky, dangerous, narrow paths. Paul has learned in his engagement with God that tribulation leads to staying power and staying power proves the quality of one's character, and that sparks hope that one will be able to meet successfully every challenge through God's power. 
Click here to sign up for your free Winning Walk newsletter!
---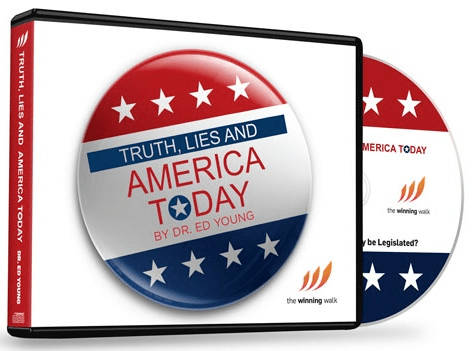 We've been told lies as a society, and many of us – even believers – have come to accept them as truth.
 
Dr. Ed Young exposes many of these lies in his 3-message CD series 'Truth, Lies, and America Today.'

You'll hear about steps you can take to:
       •Reestablish God's truth in your home and community
       •Rebuild our nation's moral foundation
       •Restore hope for future generations  

'Truth, Lies, and America Today' is our gift to thank you for your first monthly gift as a Winning Walk Pacesetter.
 
The faithful support of Pacesetters is crucial for helping proclaim proven truth on radio, television, and the internet – so please prayerfully consider becoming a Pacesetter today.
 
When you do, we'll send you 'Truth, Lies, and America Today' to help stand against the lies of our culture with the proven truth of God's Word.
 
We're so grateful for your partnership!