November 23
Be anxious for nothing, but in everything by prayer and supplication with thanksgiving let your requests be made known to God. And the peace of God, which surpasses all comprehension, will guard your hearts and your minds in Christ Jesus.
Philippians 4:6-7
Nirvana, a concept in several Oriental religions, is the state of detachment from all pain and concerns, which translates ultimately to turning off the capacity to interact with the wound-giving world. "Anxious for nothing" doesn't mean Nirvana. Christ's followers are called to be engaged with stark daily reality, not withdraw. Rather, to be "anxious for nothing" means that we are not to worry constantly, or keep turning concerns over in our minds. As we live in the fury of the world, turning over our fears and scars to God, His peace guards us.
Click here to sign up for your free Winning Walk newsletter!
---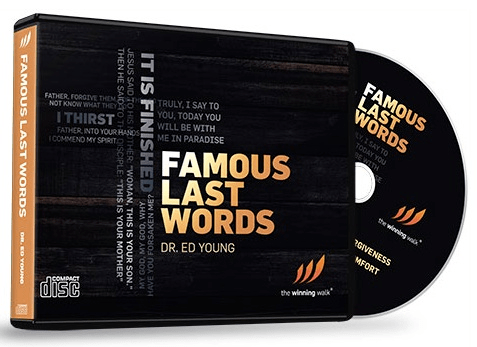 What people say in their final moments matters. And when those final words come from the most famous man in history, they hold deep meaning for every one of us.
Dr. Ed Young's 4-message series, 
Famous Last Words
, takes you to the foot of the cross where you'll find Christ's final words of encouragement and inspiration will guide you through your own dark times and provide timeless truth to hold onto for a brighter future.
Receive your copy of 
Famous Last Words
 when you donate below. Thank you for your support of The Winning Walk!