November 16
A righteous man who walks in his integrity — How blessed are his sons after him. Proverbs 20:7
The military officer sat in a prison camp. "You have one hour to live," his captors told him, "and one letter to write." The POW penned one sentence to his son. "Dear Bill, the word is integrity." The young man wouldn't have his father during critical formative years, but he had his dad's character going before him. The son was blessed. Integrity is a handsome garment, woven of who you are when no one is watching, what you stand for, and the name you carry. Integrity is among the greatest riches we can pass to our children.
Click here to sign up for your free Winning Walk newsletter!
---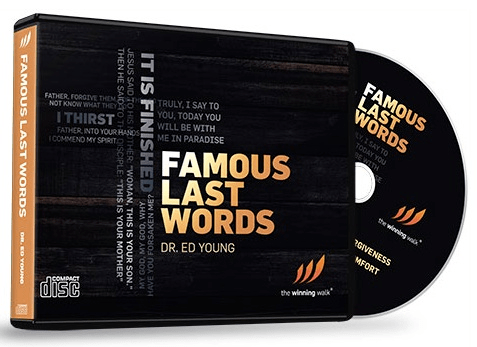 What people say in their final moments matters. And when those final words come from the most famous man in history, they hold deep meaning for every one of us.
Dr. Ed Young's 4-message series, 
Famous Last Words
, takes you to the foot of the cross where you'll find Christ's final words of encouragement and inspiration will guide you through your own dark times and provide timeless truth to hold onto for a brighter future.
Receive your copy of 
Famous Last Words
 when you donate below. Thank you for your support of The Winning Walk!