November 13
And without faith it is impossible to please Him, for he who comes to God must believe that He is and that He is a rewarder of those who seek Him. - >Hebrews 11:6
"What about the people who've never heard of Christ and the Gospel?" The promise of God is that when an individual is obedient to the light he or she has, God will provide more light and lead the person to opportunity to know Christ. Take Cornelius. He was a Roman soldier living in Caesarea who loved the true God and wanted to know Him. In a simultaneous act, God prepared Cornelius to receive Simon Peter and Simon Peter to reach out to a non-Jew. God rewarded Cornelius the seeker with all for which his heart had yearned.
Click here to sign up for your free Winning Walk newsletter!
---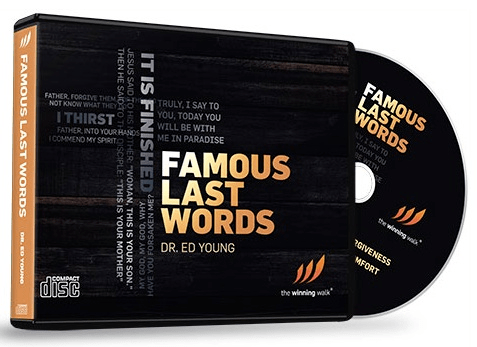 What people say in their final moments matters. And when those final words come from the most famous man in history, they hold deep meaning for every one of us.
Dr. Ed Young's 4-message series, 
Famous Last Words
, takes you to the foot of the cross where you'll find Christ's final words of encouragement and inspiration will guide you through your own dark times and provide timeless truth to hold onto for a brighter future.
Receive your copy of 
Famous Last Words
 when you donate below. Thank you for your support of The Winning Walk!