November 10
"… hope does not disappoint, because the love of God has been poured out within our hearts through the Holy Spirit who was given to us."
Romans 5:5
Hope and love are connected like heart and lung. When the breathing gets stressed and comes in troubled gasps, the heart keeps pulsating. Spiritually, when we are constricted and pressured, the Holy Spirit reminds us with the constancy of a beating heart that God's love is overseeing it all. "Hope" to win millions in a lottery and you're likely to be disappointed. The Greek word for "hope" used in Romans means anticipation with expectancy. That means when we pass through suffering we expect to discover in its hardships the manifestation of His love.
Click here to sign up for your free Winning Walk newsletter!
---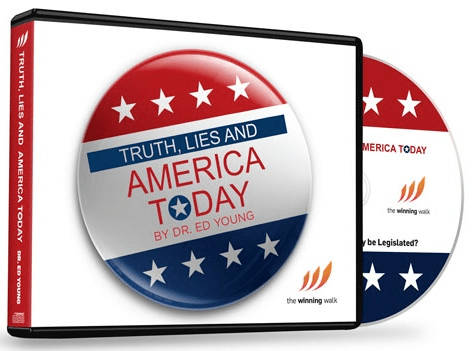 We've been told lies as a society, and many of us – even believers – have come to accept them as truth.
 
Dr. Ed Young exposes many of these lies in his 3-message CD series 'Truth, Lies, and America Today.'

You'll hear about steps you can take to:
       •Reestablish God's truth in your home and community
       •Rebuild our nation's moral foundation
       •Restore hope for future generations  

'Truth, Lies, and America Today' is our gift to thank you for your first monthly gift as a Winning Walk Pacesetter.
 
The faithful support of Pacesetters is crucial for helping proclaim proven truth on radio, television, and the internet – so please prayerfully consider becoming a Pacesetter today.
 
When you do, we'll send you 'Truth, Lies, and America Today' to help stand against the lies of our culture with the proven truth of God's Word.
 
We're so grateful for your partnership!