March 9
Trust in the LORD with all your heart And do not lean on your own understanding. In all your ways acknowledge Him, And He will make your paths straight. - Proverbs 3:5-6
Some people think they are cyborgs more than Christ's disciples. The cyborg, in current science fiction, is a mix of human and mechanical parts. So, there are people who believe God controls them in cold robotic fashion. But God's promise includes our freedom and His control—a paradox. God lives within us, and we flow with His life when we are submitted to Him. The person under God's control is the freest of all. A man or woman living through Christ chooses freely, but filled with the Holy Spirit, when they choose what He wants, they automatically choose what they want.
Click here to sign up for your free Winning Walk newsletter!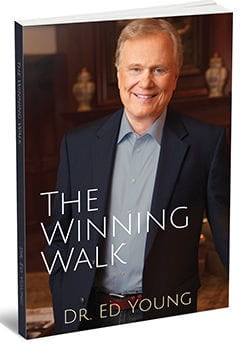 In
The Winning Walk
, Dr. Ed Young shares the basic principles and disciplines necessary to grow as a Christian. Whether you've been on the Christian journey for years or are just starting out, it will inspire you to follow God's way for your life.
The Winning Walk book is our gift to thank you for giving by our crucial March 31st financial year-end deadline. Your support will go directly to reaching people with the proven truth of God's Word.