March 7
"The eternal God is a dwelling place, And underneath are the everlasting arms; And He drove out the enemy from before you, And said, 'Destroy!'" - Deuteronomy 33:27
I was a kid trying to balance macho and anxiety that day as my dad taught me to swim in the muddy creek. I stepped in, stiff as a pine log. "Relax, son," my dad said. "I'll put my arms under you, and when you begin to sink, I'll be right there." I started sinking, but felt his sturdy arms holding me up. Everything changed knowing his arms were there. I trusted, relaxed, and luxuriated in the security of the arms holding me up. Remember when you "swim" life's deep holes and muddy waters that your Father's arms are just below the surface.
Click here to sign up for your free Winning Walk newsletter!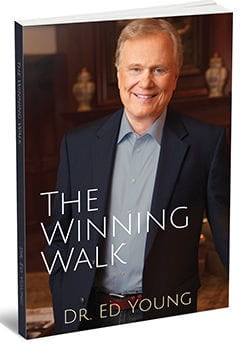 In
The Winning Walk
, Dr. Ed Young shares the basic principles and disciplines necessary to grow as a Christian. Whether you've been on the Christian journey for years or are just starting out, it will inspire you to follow God's way for your life.
The Winning Walk book is our gift to thank you for giving by our crucial March 31st financial year-end deadline. Your support will go directly to reaching people with the proven truth of God's Word.