March 4
But in all these things we overwhelmingly conquer through Him who loved us. - Romans 8:37
A World War 2 cartoon portrayed a rifle-bearing soldier approached by a tank. In one panel, the GI seemed a tiny, out-gunned insect compared to the metallic monster. But in an adjoining panel, the artist showed the soldier now armed with a bazooka. The tank still approaches, but now the GI is a giant and the tank is toy-sized. When the resurrection power of Jesus Christ operates in our lives we are more than adequate for whatever approaches us. We overwhelmingly conquer through Him Who empowers us, equips us and enables us.
Click here to sign up for your free Winning Walk newsletter!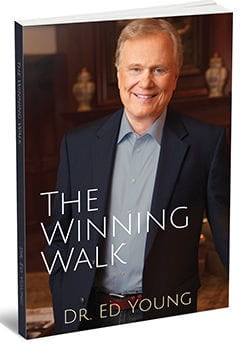 In
The Winning Walk
, Dr. Ed Young shares the basic principles and disciplines necessary to grow as a Christian. Whether you've been on the Christian journey for years or are just starting out, it will inspire you to follow God's way for your life.
The Winning Walk book is our gift to thank you for giving by our crucial March 31st financial year-end deadline. Your support will go directly to reaching people with the proven truth of God's Word.