March 29
"He who overcomes, I will grant to him to sit down with Me on My throne, as I also overcame and sat down with My Father on His throne." - Revelation 3:21
"Old iron bedstead religion" is firm on each end, but sags in the middle. A person receives Christ as Savior, and is exuberant at the launch of his walk in the Lord. Another is approaching earthly life's end, confident and firm in the assurance of Heaven. But there's a middle stage in the Christian life, between the exuberance of the New Birth and the quiet assurance of eternal security. The overcomers are those who experience victory in the middle, when the initial exuberance is years in the past and the final lap decades into the future. Overcomers are firm in the middle.
Click here to sign up for your free Winning Walk newsletter!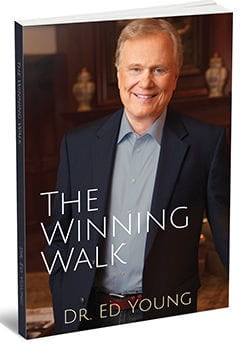 In
The Winning Walk
, Dr. Ed Young shares the basic principles and disciplines necessary to grow as a Christian. Whether you've been on the Christian journey for years or are just starting out, it will inspire you to follow God's way for your life.
The Winning Walk book is our gift to thank you for giving by our crucial March 31st financial year-end deadline. Your support will go directly to reaching people with the proven truth of God's Word.