March 21
For the wages of sin is death, but the free gift of God is eternal life in Christ Jesus our Lord. - Romans 6:23
You have to work for a wage, but God offers a free gift. Sin is actually labor, but grace is gratis—to you, but not to God. For Ernest Hemingway, wrote a 1956 interviewer, sin seemed to pay off for life, not death. But sin paid a hefty wage to Hemingway, even in this life. The final ten years of his life were spent in emotional and mental torment. Hemingway killed himself on July 2, 1961. God's promise works both ways—the wages of sin will always be collected unless one receives the free gift of Christ's forgiveness.
Click here to sign up for your free Winning Walk newsletter!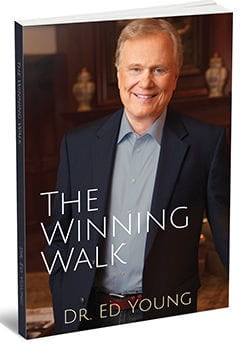 In
The Winning Walk
, Dr. Ed Young shares the basic principles and disciplines necessary to grow as a Christian. Whether you've been on the Christian journey for years or are just starting out, it will inspire you to follow God's way for your life.
The Winning Walk book is our gift to thank you for giving by our crucial March 31st financial year-end deadline. Your support will go directly to reaching people with the proven truth of God's Word.