March 2
… about 40,000 equipped for war, crossed for battle before the LORD to the desert plains of Jericho … "For the eyes of the LORD move to and fro throughout the earth that He may strongly support those whose heart is completely His." - Joshua 4:13; 2 Chronicles 16:9
Animists believe the world is full of hostile spirits demanding appeasement. Materialists think there is no supernatural dimension, hence no spiritual brings. Biblical Christians know there is a spirit-realm, and that the supernatural and natural are equally real. However, those trusting Christ walk "before the Lord," knowing He is watching over them. While they are aware of their adversary and his aims (1 Peter 5:8), they don't fear the devil and his demons, who watch them to exploit and destroy. If you walk before the Lord, you don't have to fear the other watching eyes.
Click here to sign up for your free Winning Walk newsletter!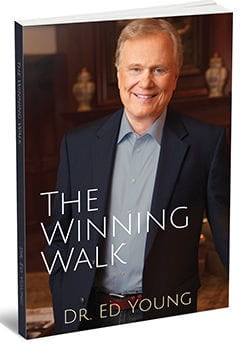 In
The Winning Walk
, Dr. Ed Young shares the basic principles and disciplines necessary to grow as a Christian. Whether you've been on the Christian journey for years or are just starting out, it will inspire you to follow God's way for your life.
The Winning Walk book is our gift to thank you for giving by our crucial March 31st financial year-end deadline. Your support will go directly to reaching people with the proven truth of God's Word.