March 16
Believe in the Lord Jesus, and you will be saved, you and your household." - Acts 16:31
Some think that because their parents believed in Christ as their Savior that they are Heaven-bound too. But Acts 16:32 says Paul and Silas "spoke the word of the Lord to (the Philippian jailer) together with all who were in his house." Because the head of the house received Christ, everyone under his care had opportunity to hear and respond. God's promise is that when the pivotal person in a family comes to Christ, it can lead to the salvation of all in the household.
Click here to sign up for your free Winning Walk newsletter!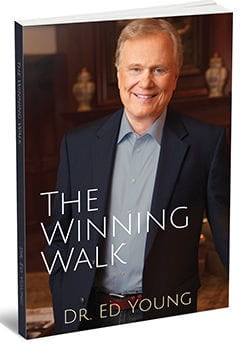 In
The Winning Walk
, Dr. Ed Young shares the basic principles and disciplines necessary to grow as a Christian. Whether you've been on the Christian journey for years or are just starting out, it will inspire you to follow God's way for your life.
The Winning Walk book is our gift to thank you for giving by our crucial March 31st financial year-end deadline. Your support will go directly to reaching people with the proven truth of God's Word.