March 14
… He will wipe away every tear from their eyes; and there will no longer be any death; there will no longer be any mourning, or crying, or pain; the first things have passed away." - Revelation 21:4
A tear consists of basic elements of life—salt, albumin and water. Salt flavors and preserves, albumin carries protein's strength, and water is life's crucible. When you shed a tear, you're pouring out the whole of life, in miniature. In the span of existence, some people weep themselves dry. You may have experienced heartbreak so intense, you feel there's nothing left inside you. But He wipes the tears, and stops the drain of your being. He replenishes the empty vessel from which your tears welled up, and restores life to its fullness.
Click here to sign up for your free Winning Walk newsletter!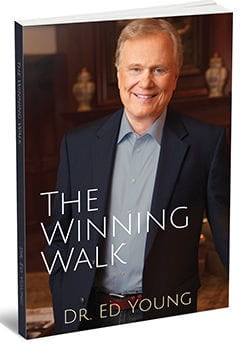 In
The Winning Walk
, Dr. Ed Young shares the basic principles and disciplines necessary to grow as a Christian. Whether you've been on the Christian journey for years or are just starting out, it will inspire you to follow God's way for your life.
The Winning Walk book is our gift to thank you for giving by our crucial March 31st financial year-end deadline. Your support will go directly to reaching people with the proven truth of God's Word.