March 1
For the LORD God is a sun and shield… - Psalm 84:11
If you are God's covenant child through Jesus Christ, nothing can get at you that doesn't come through God. I came up with Saturday matinees at the neighborhood movie featuring Gene Autry, Roy Rogers, the Cisco Kid and other cinema heroes. No matter how much danger they faced, I never worried, because they were protected by the script that guaranteed their safety. Run away from Him, and you leave your shield. Walk faithfully under His Lordship, and you can't be taken from the world until He says it's time.
Click here to sign up for your free Winning Walk newsletter!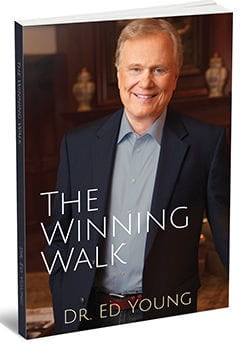 In
The Winning Walk
, Dr. Ed Young shares the basic principles and disciplines necessary to grow as a Christian. Whether you've been on the Christian journey for years or are just starting out, it will inspire you to follow God's way for your life.
The Winning Walk book is our gift to thank you for giving by our crucial March 31st financial year-end deadline. Your support will go directly to reaching people with the proven truth of God's Word.