June 9
For in the day of trouble He will conceal me in His tabernacle; in the secret place of His tent He will hide me; He will lift me up on a rock.
Psalm 27:5
Usually we wouldn't think of a tent as being secure. The key is in who is in the tent with you. If the occupant is more powerful than the assaulting enemy, you are secure. God chose to manifest His presence among His covenant people upon the Mercy Seat, atop the Ark of the Covenant. As the Hebrews passed through the wilderness, they housed the Ark in the Tabernacle. The tent's walls were of cloth, but its content was the Almighty God. If you are in Christ's covenant, you dwell in the tent of His present, and you are safe there, no matter where you go.
Click here to sign up for your free Winning Walk newsletter!
---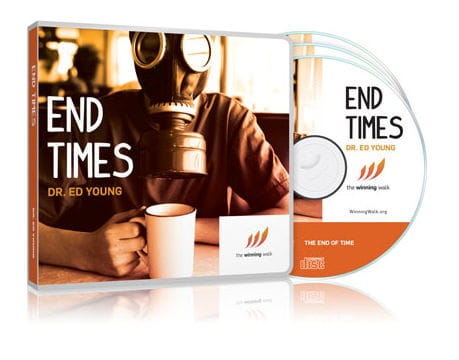 You can have confidence, joy, and peace – even in death!
As believers, we don't need to fear the end of the world. Jesus has conquered death and promised us eternal life with Him!

Dr. Ed Young takes an in-depth look at life, death, the second coming of Christ, the great judgment, and the promise of heaven in his 5-message CD series, End Times.

It's our gift to thank you for your generous donation to The Winning Walk below.

Thank you for your support – and may the End Times series empower you to be confident in your future, as you know the proven truth of God's plan for the end of time.