June 4
"… you will receive power when the Holy Spirit has come upon you; and you shall be My witnesses both in Jerusalem, and in all Judea and Samaria, and even to the remotest part of the earth."
Acts 1:8
Jesus' promise to His disciples stands throughout history. Acts 2 reports that His followers went back to Jerusalem, as He commanded, and that the Holy Spirit empowered them, creating the church. When you and I received Christ, we came into that anointing—or baptism—with the Spirit, and have an anointing that remains (1 John 2:27). Eons ago, the great furnace at the heart of the sun ignited, and all born into the universe bathe in the energy. Two thousand years ago, the fire of the church was set ablaze, and to be born into Christ is to come into this baptism of fire.
Click here to sign up for your free Winning Walk newsletter!
---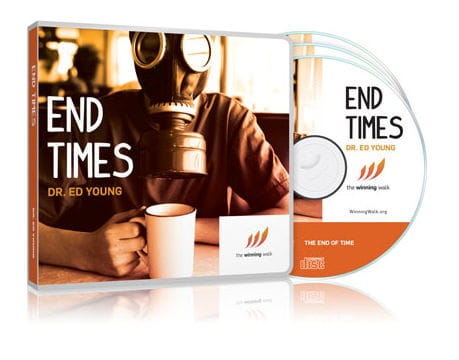 You can have confidence, joy, and peace – even in death!
As believers, we don't need to fear the end of the world. Jesus has conquered death and promised us eternal life with Him!

Dr. Ed Young takes an in-depth look at life, death, the second coming of Christ, the great judgment, and the promise of heaven in his 5-message CD series, End Times.

It's our gift to thank you for your generous donation to The Winning Walk below.

Thank you for your support – and may the End Times series empower you to be confident in your future, as you know the proven truth of God's plan for the end of time.