June 30
In this is love, not that we loved God, but that He loved us and sent His Son to be the propitiation for our sins. - 1 John 4:10
When Nixon aide Chuck Colson was convicted of Watergate-related crimes, his family was already in crisis, and Colson grieved over being removed from them to serve prison time. Colson had recently become a Christian, and was part of a group of other government officials who followed Christ. Minnesota Governor Al Quie offered to serve Colson's time in prison. The law wouldn't allow it. But it was a different case when Christ presented Himself to take your penalty and mine. God permitted His Son to take the death-sentence sin had imposed on us. He became our substitute and took on our sentence.
Click here to sign up for your free Winning Walk newsletter!
---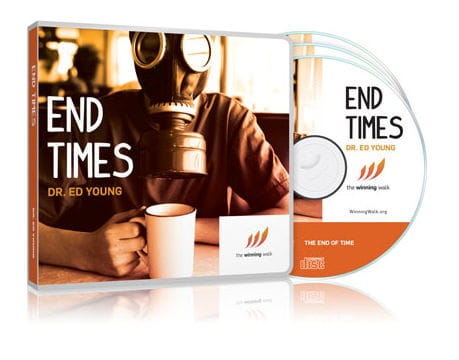 You can have confidence, joy, and peace – even in death!
As believers, we don't need to fear the end of the world. Jesus has conquered death and promised us eternal life with Him!

Dr. Ed Young takes an in-depth look at life, death, the second coming of Christ, the great judgment, and the promise of heaven in his 5-message CD series, End Times.

It's our gift to thank you for your generous donation to The Winning Walk below.

Thank you for your support – and may the End Times series empower you to be confident in your future, as you know the proven truth of God's plan for the end of time.