June 25
Therefore, my beloved brethren, be steadfast, immovable, always abounding in the work of the Lord, knowing that your toil is not in vain in the Lord. - 1 Corinthians 15:58
God's can do anything He desires, but has chosen humans to be His co-laborers. It takes God's provision and an individual's "toil" to produce the harvest. Without God, we can do nothing. Without our effort and cooperation, God won't accomplish His aims. This is not because He is weak, but because He is faithful to His covenant. God appointed Adam and Eve to tend the Garden, and the Garden would supply what they needed. This covenant of provision and performance stands. And the guarantee is that whatever we do in and through God will always bear fruit.
Click here to sign up for your free Winning Walk newsletter!
---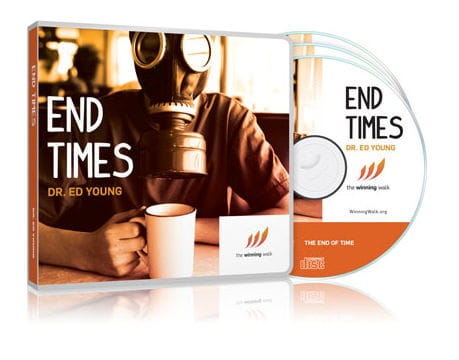 You can have confidence, joy, and peace – even in death!
As believers, we don't need to fear the end of the world. Jesus has conquered death and promised us eternal life with Him!

Dr. Ed Young takes an in-depth look at life, death, the second coming of Christ, the great judgment, and the promise of heaven in his 5-message CD series, End Times.

It's our gift to thank you for your generous donation to The Winning Walk below.

Thank you for your support – and may the End Times series empower you to be confident in your future, as you know the proven truth of God's plan for the end of time.