June 19
Now to the one who works, his wage is not credited as a favor, but as what is due. But to the one who does not work, but believes in Him who justifies the ungodly, his faith is credited as righteousness, - Romans 4:4-5
A favorite "I Love Lucy" episode depicts "Lucy Ricardo" trying to box chocolates from a speeding conveyer belt. Many laborers do "piece work," and are paid by the number of items they produce or process. They get their "due" based on their work. God's righteousness is absolute and only 100 percent purity meets His "quota." But God's mercy is also absolute; therefore He makes provision to satisfy the requirements of His justice. You can't do enough "piece work" to satisfy God's expectations, so He takes care of them for you, through Jesus Christ. That's the wonderful promise of His grace.
Click here to sign up for your free Winning Walk newsletter!
---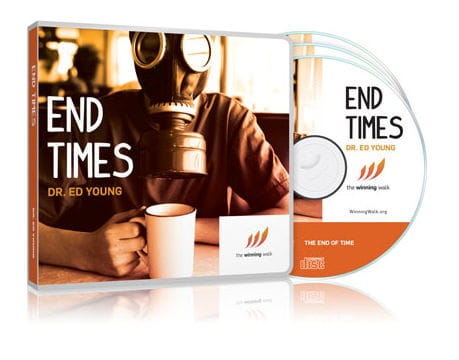 You can have confidence, joy, and peace – even in death!
As believers, we don't need to fear the end of the world. Jesus has conquered death and promised us eternal life with Him!

Dr. Ed Young takes an in-depth look at life, death, the second coming of Christ, the great judgment, and the promise of heaven in his 5-message CD series, End Times.

It's our gift to thank you for your generous donation to The Winning Walk below.

Thank you for your support – and may the End Times series empower you to be confident in your future, as you know the proven truth of God's plan for the end of time.