June 11
(The righteous) will not fear evil tidings; His heart is steadfast, trusting in the LORD.
Psalm 112:7
News junkies constitute a whole class of people in our media-saturated culture. It seems sometimes 99.9 percent of the news coming at us daily is bad. But God's promise to His covenant people is that they don't have to fear evil tidings. That doesn't mean they are exempt from dread phone calls or other alarming information. However, God's covenant people don't have to exist in a perpetual state of anxiety. Down deep inside they trust in God, and know He works all things for good and His glory in their lives.
Click here to sign up for your free Winning Walk newsletter!
---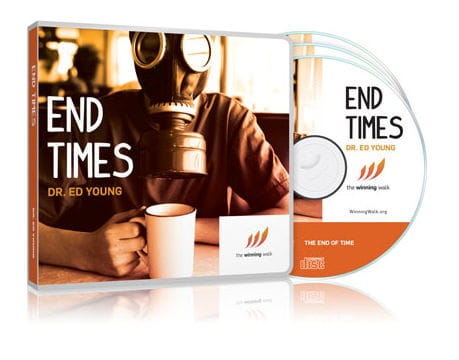 You can have confidence, joy, and peace – even in death!
As believers, we don't need to fear the end of the world. Jesus has conquered death and promised us eternal life with Him!

Dr. Ed Young takes an in-depth look at life, death, the second coming of Christ, the great judgment, and the promise of heaven in his 5-message CD series, End Times.

It's our gift to thank you for your generous donation to The Winning Walk below.

Thank you for your support – and may the End Times series empower you to be confident in your future, as you know the proven truth of God's plan for the end of time.