April 1
Every prudent man acts with knowledge, But a fool displays folly. - Proverbs 13:16
My dad loved April Fools' Day because he was a practical jokester—the rare breed who enjoyed others pulling shenanigans at his expense. It's fun to be foolish one day a year, but it's tragic when such becomes a lifestyle. God promises that the "prudent"—the shrewd and sensible—act with perceptive skill, or savvy. The fool, on the other hand is the individual who barrels through life with thoughtless stupidity. You may be a fun-loving practical joker today, but resume your prudent walk tomorrow.
Click here to sign up for your free Winning Walk newsletter!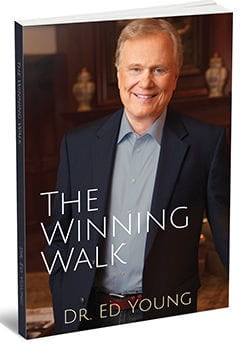 In
The Winning Walk
, Dr. Ed Young shares the basic principles and disciplines necessary to grow as a Christian. Whether you've been on the Christian journey for years or are just starting out, it will inspire you to follow God's way for your life.
The Winning Walk book is our gift to thank you for giving by our crucial March 31st financial year-end deadline. Your support will go directly to reaching people with the proven truth of God's Word.