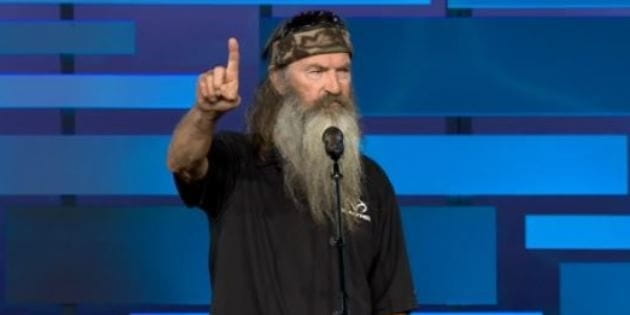 Phil likes to keep things simple at such opportunities.
1) I'm a guilty sinner.
2) Jesus is the sinless sacrifice, who died for me and my sins.
3) Forgive me, Jesus. I trust you.
4) Lord, remember me after Your resurrection. Take me to be with You forever. (continue to page 2)
In other words, Phil sticks to what the thief on the cross next to Jesus would have understood. Maybe it's because that's what anyone hoping to beat death needs to hear and believe.
Yes, the gospel does go deeper. But in his role as "The Duck Commander" Phil isn't leading a church in the sense that he spends a great deal of time expouding doctrine. He's leading the life to which God called him, and he's leading his family.
Phil's life story demonstrates the results of the gospel: that Christ brings us out of sin (Titus 2:11-14); causes us to love God not hate Him, or (worse) ignore Him (1Cor. 16:22, 1Peter 1:8); rescues us from a self-directed life of going nowhere and leads us to see Him as the Good Shepherd who is worthy of being followed all our days (John 10:11, Psalm 23).
Because Jesus loves us, we can love others—both inside the church and out. All of that starts with receiving His love, embracing His truth, and loving Him back.
As Phil would say, "What's wrong with that?"

Alex Crain is the editor of Christianity.com and a contributing editor for BibleStudyTools.com. He also serves as pastor of worship ministries at Harvest Christian Fellowship in the Richmond, VA area. Alex and his wife were married in 1995 and have three children. You can follow him on Twitter @Alex_Crain.
Phil Robertson's book, Happy, Happy, Happy: My Life and Legacy as the Duck Commander is featured in the following interviews with him on GodTube.com and Crosswalk.com.
(Image credit: Saddleback Church Media Center)