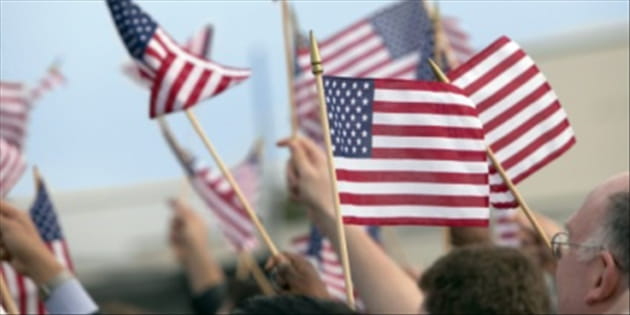 If you read all that the New Testament says about governing authorities in places like Romans 13:1 and 1 Peter 1:1, you see that the normal situation is one of compatible loyalties. The church is not the state and the state is not God, but this does not mean the church must always be against the state. In general, then, it's possible to be a good Christian and a good American, or a good Ghanaian or a good Korean. Patriotism is not bad. Singing your national anthem and getting choked up is not bad. Allegiance to God and allegiance to your country do not have to be at odds.
4. God's people are not tied to any one nation.
When Jesus says "go ahead and give to Caesar what belongs to him" he is effectively saying, "you can support nations that do not formally worship the one true God." Or to put it a different way: true religion is not bound with only one country. This means-as we see in Revelation 7:1 and Isaiah 49:1 and Psalms 87:1 and Matthew 28:1and Acts 1:1 and a hundred other places-the Church will be transcultural and transnational.
While American churches are in America, they must never be only American churches. We must keep in mind (and when applicable, explicitly state) that our congregations are filled with brothers and sisters from all over the world. Likewise, we must work hard to help people see that Christianity is not just a Western religion or American religion. Christianity started in the Middle East and quickly spread to North Africa, and parts of Asia and Europe. The Church was always meant to be international. Today there are more Anglicans in church in Nigeria than in England, more Presbyterians in South Korea than in the United States. The promise to Abraham way back in Genesis is that through his family God would bless the whole world. Christianity is not tied to just one certain nation. Following Christ is not an ethnic thing. You can be from any country and worship Jesus.
5. All this leads to one final point: while patriotism can be good, the church is not a good place for patriotism.
We should pray for service men and women in our congregations. We should pray for the President. We should pray for the just cause to triumph over the evil one. We are not moral relativists. We do not believe just because all people are sinners and all nations are sinful that no person or no nation can be more righteous or more wicked than another. God may be on America's side in some (not all) her endeavors.
But please think twice before putting on a Star Spangled gala in church this Sunday. I love to hear the national anthem and "God Bless America" and "My Country, Tis of Thee," but not in church where the nations gather to worship the King of all peoples. I love to see the presentation of colors and salute our veterans, but these would be better at the Memorial Day parade or during a time of remembrance at the cemetery. Earthly worship should reflect the on-going worship in heaven. And while there are many Americans singing glorious songs to Jesus there, they are not singing songs about the glories of America. We must hold to the traditions of the Apostles in our worship, not the traditions of American history. The church should not ask of her people what is not required in Scripture. So how can we ask the Koreans and Chinese and Mexicans and South Africans in our churches to pledge allegiance to a flag that is not theirs? Are we gathered under the banner of Christ or another banner? Is the church of Jesus Christ-our Jewish Lord and Savior-for those draped in the red, white, and blue or for those washed in the blood of the Lamb?