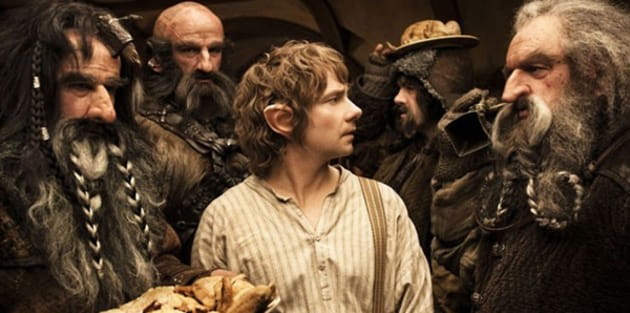 At long last, Bilbo Baggins is back. Whether you're fanatic enough to dress up for the midnight showing, or patiently awaiting a weekend outing, or even content to meander into a theater after the crowds die down, here's some advice for how to make the most of your experience of The Hobbit: An Unexpected Journey.
Don't worry, there's no spoiler below. My hope in seeing an early screening of the film is to be at your service in preparing you for the viewing, not by letting any cat out of the bag — although if you've read the book, you know where this film is going.
It is fitting to mentally and emotionally prepare yourself for an experience like this. That's precisely what the story's creator — he would prefer "sub-creator" — J. R. R. Tolkien would have you do, and it's no necessary sign of unhealthy self-occupation to do so. Perhaps as much as any writer, Tolkien carefully crafted his tales for the profound spiritual effect they would have on the reader. He means for you to be deeply affected. He means for his story, set in a "secondary world" called Middle Earth, to give you a certain experience, a kind of deep joy and satisfaction, that draws from the "primary world" in which we live. So, don't waste your ticket by showing up unprepared.
Adjust Your Expectations
Expectation management is important with a film like this — not because the film isn't well done, it's extraordinary — but because any film based on a well known and well loved book faces this challenge. And all the more after the 2001–2003 movie trilogy was such a smashing success.
Tolkien wrote The Hobbit in the 1930s as a children's book. It was the mid 1950s before he finished publishing The Lord of the Rings. By then, he was a more mature novelist and "sub-creator" and had seen how interested adults could be in his hobbit tale. So his sequel is darker. And it's the sequel that made Tolkien the author of the century, not The Hobbit — good as The Hobbit is. It's no accident that director Peter Jackson started with The Lord of the Rings. LOTR is the more compelling story. So at least adjust your expectations on that count. (Jackson has compensated for this by making the Hobbit film to borrow some darkness and gravity from its already produced sequel.)
Also, it's fair to recognize that Sir Ian McKellen (Gandalf) is now over a decade older — which seems pronounced in the opening scenes, but fades as the story begins to move. So also with Ian Holm (the older Bilbo) and Christopher Lee (Saruman). However, Hugo Weaving (Elrond) and Cate Blanchett (Galadriel) appear to have barely aged a day — could they actually be elves? But apart from those two, adjust your expectations on the actors. I should note that the two main new faces, Martin Freeman (the young Bilbo) and Richard Armitage (Thorin Oakenshield) do a fantastic job.
One final adjustment to mention: double frames per second (HFR: high frame rate). For decades, the movies have been 24 frames per second. In some 400 theaters, double that rate is being offered. Another option is 3D. The screening I took in was not only HFR, but also 3D. Add to that the fact that it's been a decade since I saw Lord of the Rings in a theater, not to mention other technological advances, and it took me awhile to "adjust" to this film. At first, it didn't "feel" to me like the trilogy. The HFR and 3D (and I don't typically see 3Ds) seemed to make the film almost too real. Dwarf costumes are difficult enough without doubling the frames per second. The improved realness proved a distraction and slowed my ability to willingly suspend my disbelief. If you feel this way early on, don't get discouraged too quickly. As the story picked up, I lost awareness of the changes and was able to get into it better.