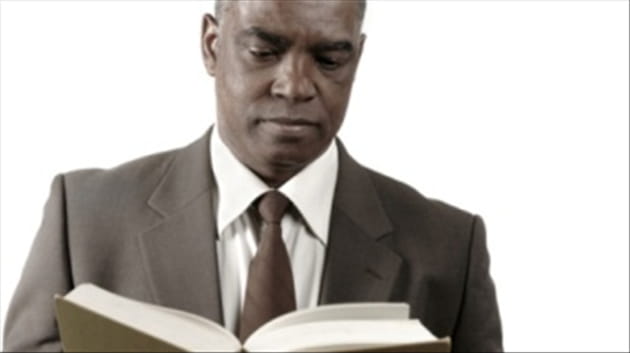 Editor's Note: The following essay is excerpted from the contents of the new ESV Study Bible.
To read the Bible "theologically" means to read the Bible "with a focus on God": his being, his character, his words and works, his purpose, presence, power, promises, and precepts. The Bible can be read from different standpoints and with different centers of interest, but this article seeks to explain how to read it theologically.
The Bible: The Church's Instruction Book
All 66 books of the Bible constitute the book of the Christian church. And the church, both as a whole and in the life of its members, must always be seen to be the people of the book. This glorifies God, its primary author.
God has chosen to restore his sin-spoiled world through a long and varied historical process, central to which is the creating—by redemptive and sanctifying grace—of what is literally a new human race. This unfinished process has so far extended over four millennia. It began with Abraham; it centers on the first coming of the incarnate Lord, Jesus Christ; and it is not due for completion till he comes again. Viewed as a whole, from the vantage point of God's people within it, the process always was and still is covenantal and educative. Covenantal indicates that God says to his gathered community, "I am your God; you shall be my people," and with his call for loyalty he promises them greater future good than any they have yet known. Educative indicates that, within the covenant, God works to change each person's flawed and degenerate nature into a new, holy selfhood that expresses in responsive terms God's own moral likeness. The model is Jesus Christ, the only perfect being that the world has ever seen. For God's people to sustain covenantal hopes and personal moral ideals as ages pass and cultures change and decay, they must have constant, accessible, and authoritative instruction from God. And that is what the Bible essentially is.
This is why, as well as equipping everywhere a class of teachers who will give their lives to inculcating Bible truth, the church now seeks to translate the Bible into each person's primary language and to spread universal literacy, so that all may read and understand it.
The Bible Is Canonical
God's plan is that through his teaching embodied in the Bible, plus knowledge and experience of how he rewards obedience and punishes disobedience in a disciplinary way, his people should learn love, worship, and service of God himself, and love, care, and service of others, as exemplified by Jesus Christ. To this end each generation needs a written "textbook" that sets forth for all time God's unchanging standards of truth, right, love and goodness, wisdom and worship, doctrine and devotion. This resource will enable people to see what they should think and do, what ideals they should form, what goals they should set, what limits they should observe, and what life strategies they should follow. These are the functions that are being claimed for the Bible when it is called "canonical." A "canon" is a rule or a standard. The Bible is to be read as a God-given rule of belief and behavior—that is, of faith and life.
The Bible Is Inspired
Basic to the Bible's canonical status is its "inspiration." This word indicates a divinely effected uniqueness comparable to the uniqueness of the person of the incarnate Lord. As Jesus Christ was totally human and totally divine, so is the Bible. All Scripture is witness to God, given by divinely illuminated human writers, and all Scripture is God witnessing to himself in and through their words. The way into the mind of God is through the expressed mind of these human writers, so the reader of the Bible looks for that characteristic first. But the text must be read, or reread, as God's own self-revelatory instruction, given in the form of this human testimony. In this way God tells the reader the truth about himself; his work past, present, and future; and his will for people's lives.